BIO
For anybody who knows what Kenyan hip hop and afro soul fusions are all about, the name MC Sharon is among those that might easily come to mind. The interdisciplinary artist who dabbles as a singer, rapper, producer, author and contemporary painter is  also known as Decibelle or Alshaverb Mama Yao. (Alshaverb stems from the first two letters of her names Alai Sharon) and she has been plying these musical routes for quite a while now. MC Sharon is a versatile musical veteran, human rights defender, social justice warrior and polymath with a penchant for unapologetic lyricism, smooth husky melodies and raw, hard hitting lyrical messages which aim at uplifting as well as enlightening society. She mostly performs original live music and the occasional covers with her Green House Band and they are a formidable sight on stage to say the least.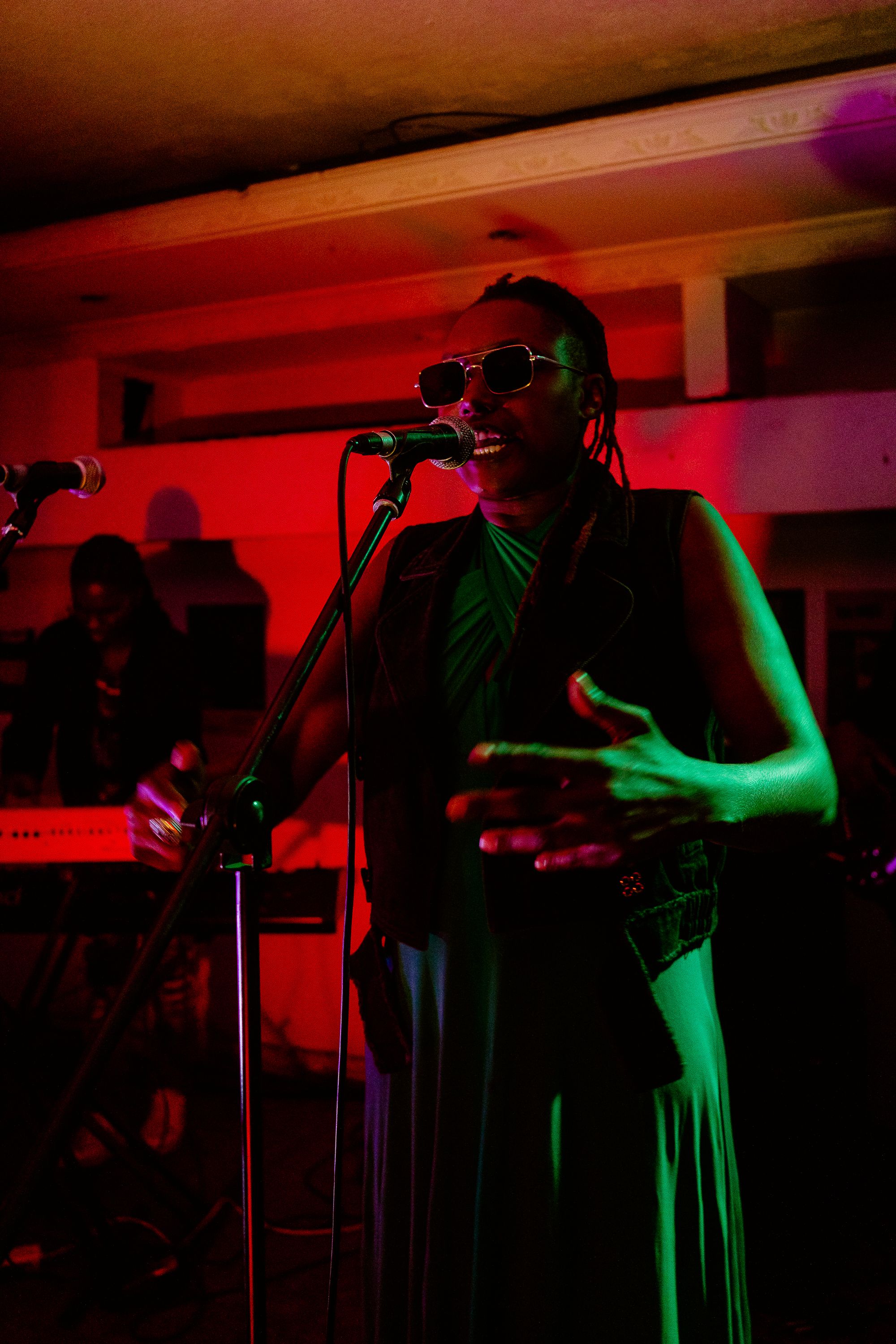 (MC Sharon @The Mist KE  performing with her Green House Band - May 2022)
Among other things, her current portfolio consists of six solo albums, one mixtape, one collaboration mixtape, four collaboration albums and two books. These include: African Warrior, The UA Initiative, Hustlers Ground, Warriors Live Up (as part of the larger Warriors Band), TOMG Mixtape Volume 1 (as part of the larger TOMG crew), The Seven Days Mixtape, Black Book (With South Sudanese rapper 6ix Foot) GEMS and The Last Will and Testament. 2079 (with Shekina Karen), Kilumi with DJ Coco Em and friends April 2022) and Ugwe Romo Gi Yimbo which is a Luo album are part of her 2022 discography; some of which are to be released within this month of May. She is also working with legendary producer Tabu Osusa from Ketebul Music on a special project which leans towards her ethnomusicological pursuits and it will be out later in the year.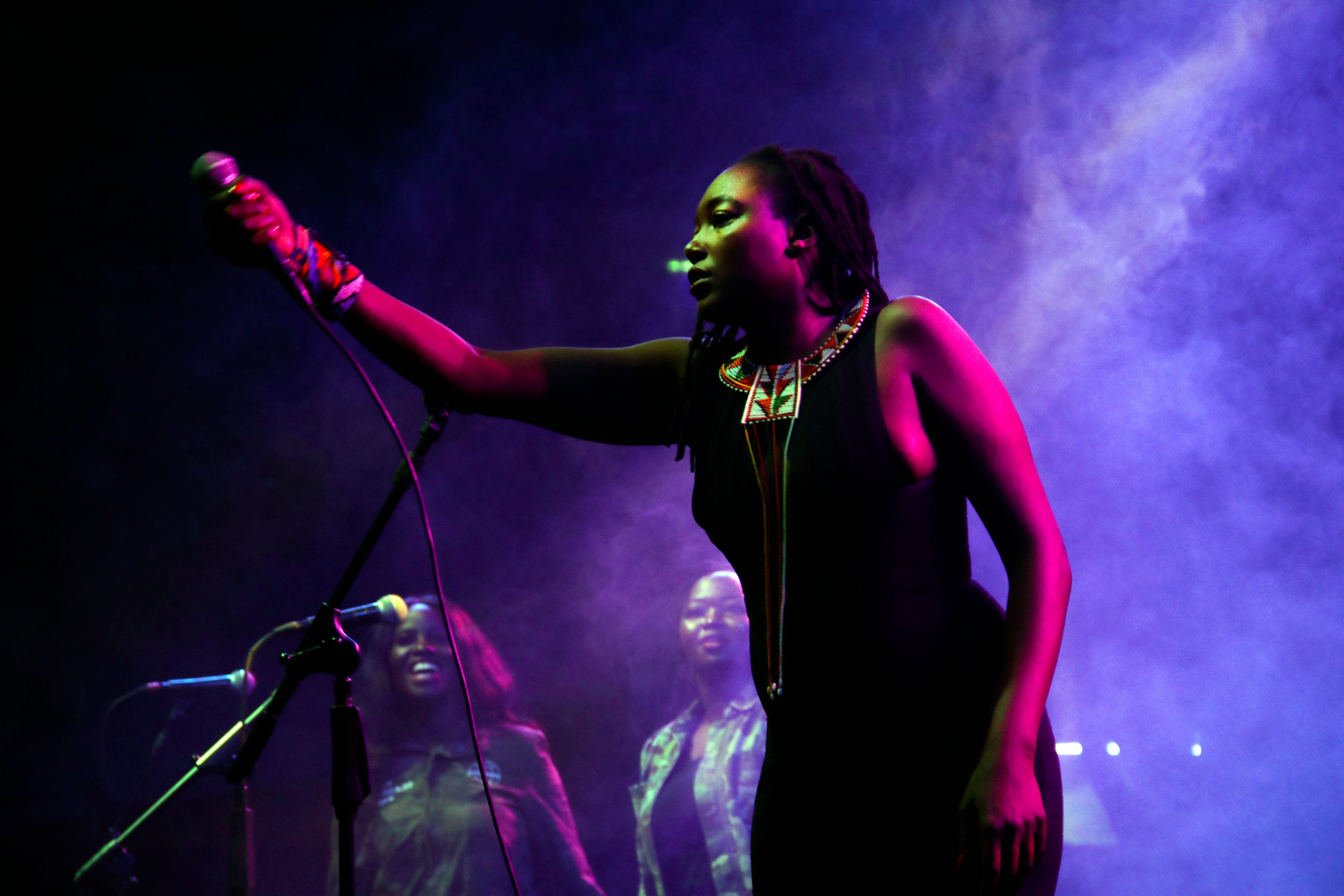 (Alliance Francais Circa November 2021 - Underground Expressions Launch)
 
Her fifth studio project GEMS was released in 2018. The word GEMS means more to her than the denotative precious stones. It refers to a Genetically Emancipated Musical Soul as evidenced in her transitional journey through the world of sound and beyond. From a girl to a woman, a woman to a queen and finally queen to goddess, this 20 track music project is a sufficient depiction of her process. She was the executive producer, co-engineer and co-director of the whole project; supported by various global producers and engineers  who ensured that her vision came to life.
These included the main sound engineer and music producer Michael Miheso Itebete (KENYA), Fred Fisher (Omnibeats LLC), Donovan Jarvis and co at Fivestar Beats (USA), Onetone (USA), the whole crew at Exclusive  Rap Beats and/or 20dollarbeats,(USA) Rudeboy Cabana aka Outspoken (USA), Mohjay Mohteaching (KENYA/Germany) among others. She also featured Kash Grindhauz, Trabolee, Six Foot, Kev Mamba, Hiram Kamau, Black Spear and her very own son Jabali Tulani. All these talented young men added a spicy balance to the already broad spectral piece of work. Kutupanga, an ode to the Kenyan politicians as well as the naive youth who supports them was the first single off this project and there are many more important videos and singles lined up to back it up. 
GEMS like all the projects before it is raw, gritty,honest, controversial, spiritual, melodic, hardcore and fun all in one. From tackling politics on Kutupanga, to love on Leo Loving, to straight city bars on Nairobi block the overall versatility in GEMS is amazing. Be sure to grab yourselves either a hard or soft copy as soon as you can to listen for yourself.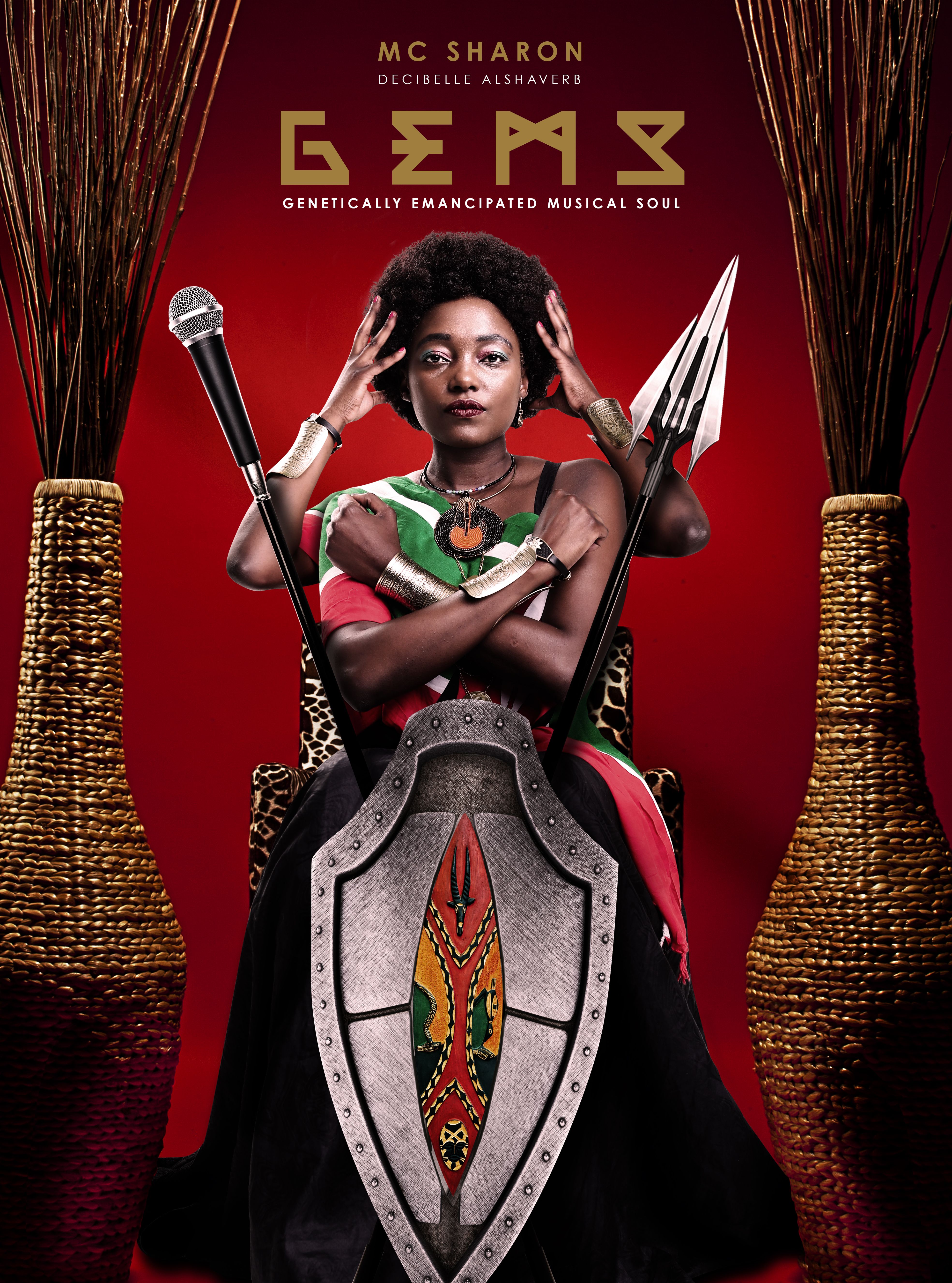 (Official GEMS Cover)
The Last Will and Testament The Last Will and Testament (TLWAT) is MC Sharon's 6th studio album and it was released on January 15th 2022. The 21-track album is a culmination of the polymathic goddess's creative energies which were harnessed in isolation at the height of the COVID-19 contagion. It a potent yet soulful body of work which is not only timely but also mature, honest, well thought out and also fun. TLWAT is catalyzed in part by the turmoil and uncertainty which had engulfed the world for the better part of 2020 and 2021. The other half is catalyzed by an urgent need to rebirth, experiment and soar beyond the obvious.
The duty of an artist or rather a sound sage is to capture the times and this here offering does just that. From Burn Di Corona which was written at the onset of the lockdown, to Say My Name which was written three days after the brutal death of George Floyd, this album tackles hard conversations with the effortless grace that can only be borne of time in the game. The duality in this project is glaring and just like there are difficult conversations, there are also many other lighter moments in TLWAT. Wozaa is for the Africans or rather Alkebulanians who'll find their groove in a Fela Kuti inspired banger which makes the soul dance. Kwisha and Self Love are dedicated to the intricate emotions which accompany this thing we call love. Brother's Keeper is for brothers and Why the Caged Bird sings is dedicated to the freedom that comes with embracing one's calling. The title is inspired by the late great Maya Angelou. So is its mood as well as vocal Nubian nuances.
Onge Wichkuot redifines MC Sharon's journey back to her ethnic Luo roots (as will be epitomized by her next offing Nyar Jakwath) and A Page A Day is dedicated to the book lovers. Simply put, TLWAT is a no skip album which is best enjoyed with a good sound system and a smooth drink; preferably as one reads Alkebulanian in Alkebulan. You have to try it to find out why. TLWAT is also the bridge where the old and new MC Sharon meet and there's really no telling where she is headed next. For now we're here though; with 21 gems which will take you through a emotionally and intellectually charged  odyssey and leave you begging for more of this reincarnated sound sage.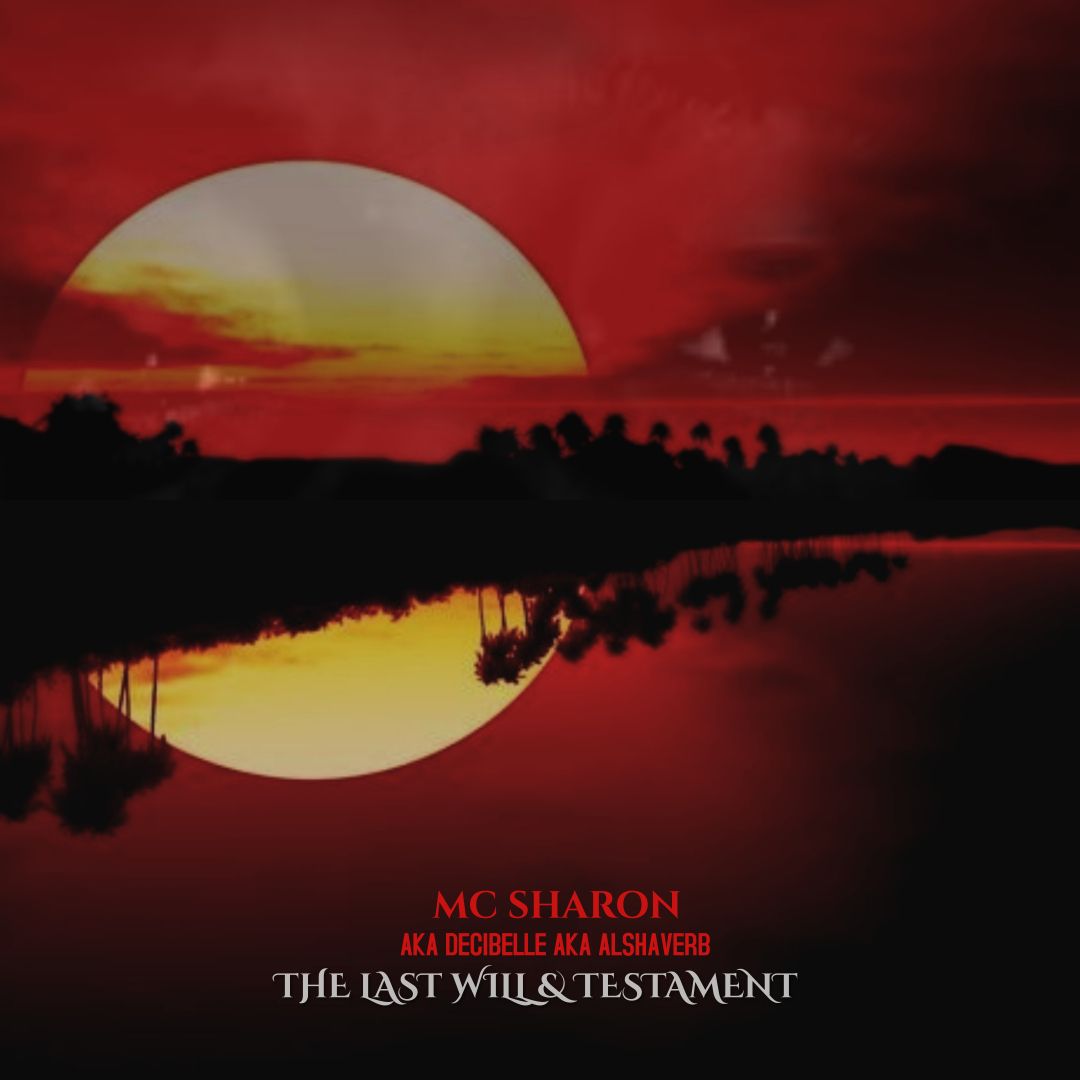 (Official TLWAT Cover)
BOOKS
MC Sharon has authored two books i.e Bottle Battles, Binges and Brew Blues 1 and Alkebulanian in Alkebulan which was released on November 2021. Both titles are available via Amazon KDP, mcsharon.com and PayHip. The book cover for Alkebulanian in Alkebulan is drawn from one of her original paintings 'Ebony' and like most of her other artwork she designed it herself.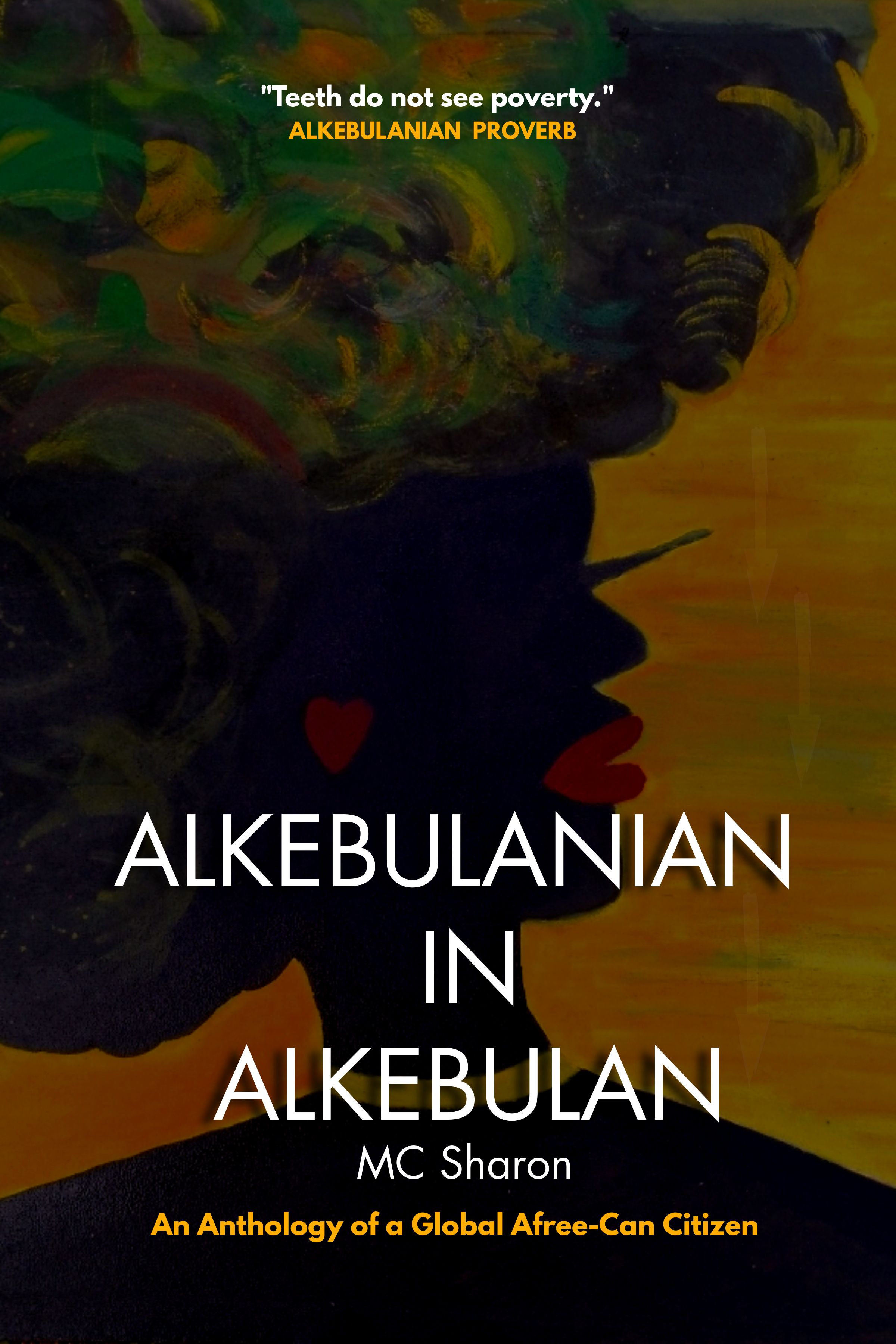 SOCIAL MEDIA LINKS
Facebook: MC Sharon (both account and page)
IG: @mcsharonke
Twitter: @mcshazdecibelle
Soundcloud: Alshaverb
Reverbnation: MC Sharon aka Decibelle
YouTube: https://www.youtube.com/c/MCSharon
Website: MC SHARON OFFICIAL WEBSITE (https://mcsharon.com)
AFFILIATES, COLLABORATORS AND PARTNERS
Alshaverb Music Group, The Green House Movement, Turning Tables, PAWA 254, Tabu Osusa, Ketebul Music, Kleopetrol - Germany, Rhyme Like A Girl - USA, Sauti Za Mabinti, SWAN - Kenya, Alliance Francais Nairobi, German Embassy Nairobi, Embassy of Switzerland, Nairobi, DJ COCO Em & Infine, Omnibeats, Fivestar Beats, Rudeboy Cabana, 20 Dollar Beats, Michael Itebete, The Others Music Group, Warriors Band, Hiram Kamau and KFAM Studios
CONTACTS:
EMAIL: sharonalai2012@gmail.com
Phone Number: +254713809185